A routine hearing check is important, but it hasn't always been convenient or easy. There's the time, cost and stress of travel and parking. You may have to miss work or arrange extra childcare. If the appointment is for your child, they may have to miss school.
Now, if you wear Cochlear™ Nucleus® 8, Nucleus 7, and Kanso® 2 sound processors, your clinician can check your hearing health using Cochlear Remote Check. There's no need for you to visit the clinic. All you need is the Nucleus Smart App and a compatible mobile device.*
How it works
When your next review is due, ask your clinician to activate Remote Check. After they have done so, your Remote Check appointment will appear in your Nucleus Smart App and the activities assigned to you can be completed. You can choose any time within 14 days to complete them and the results are then sent securely to your clinician.
If everything is working well, your clinician will provide reassurance and any advice about how to continue with your hearing journey. They can also let you know if they think you would benefit from a face-to-face follow up appointment.
And that's it!
Tips to get your devices ready
Download the Nucleus Smart App on a compatible mobile device.
Log in to your Cochlear account (or create one on the app or at myCochlear.com).
Make sure your sound processors are paired to the Nucleus Smart App and that you have enabled the Data Sync function.
Your clinician will then be able to enrol you onto Remote Check and it will automatically appear in the Nucleus Smart App.
Tips to get yourself ready
Set aside time in a place where you will be comfortable and you won't be disturbed. (If you are doing a Remote Check for your child, make sure you are both comfortable!)
You may find it easier to ask someone else to take photos of your implant site.
Make notes of any concerns/questions you have or anything your clinician needs to be aware of.
Tips for doing the Remote Check activities
Make sure you use your daily MAP and processor settings, especially your usual volume setting.
Don't worry if you are interrupted or you need a break. Remote Check will save your progress as you go.
Remember there is no right and wrong for your answers. All the data gathered combines to provide your clinician with information they need to best help you.
Click here for more information about Remote Check and to download your getting started guide.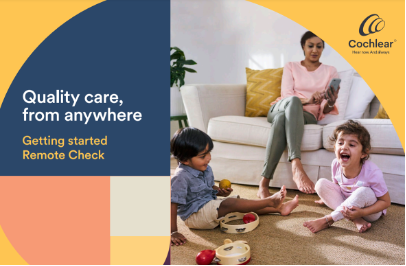 * For compatibility information visit www.cochlear.com/compatibility