At Cochlear, we take pride in seeing our recipients use their Nucleus®, Baha® or Osia® system to help them succeed in their studies and reach personal goals. That's why we're proud to support the academic excellence of our recipients through two scholarships for tertiary study:
The Graeme Clark Scholarship for Cochlear™ Nucleus® implant recipients
The Anders Tjellström Scholarship for Cochlear™ Baha® and Cochlear™ Osia® implant recipients.
Meet this year's winners, Katie and Libby and find out what life with a hearing implant is like for them as students, and what opportunities winning the Scholarship opens up.
Libby, a competitive swimmer using Cochlear™ Nucleus® 7 sound processors, is embarking on a degree in Medicine. Katie, who recently received a Cochlear™ Osia® 2 sound processor is finalising her degree in English.
How does a hearing implant allow you to live the life you want?
Katie: "For me, a hearing implant allows me freedom from anxiety and greater independence as a young student. It has given me the confidence to study where I wanted to despite my hearing loss and as a result, I was able to accept an offer to study in Scotland and didn't fear the distance from home.
When I got my Baha six years ago, I was overjoyed that my ears could finally get the air they needed to prevent persistent infections. The Baha allowed my ears to heal, but my recent transition to the Osia® system has shown me how to experience life, rather than just live it. Simple features such as the waterproof case have made the biggest difference to me. I can fully join in activities that I previously felt excluded from."
Libby: "Being fitted with cochlear implants has transformed my life. When my hearing loss dropped from moderate to profound at the age of 10 it had a devastating impact on my life. I felt very isolated, and my progress in both school and sports suffered greatly.
I feel having a cochlear implant has opened many doors for me and allowed me to pursue an aspirational career as a doctor or surgeon; something I feel could have been extremely difficult without the help of my cochlear implants. The process of applying to medical school is very challenging but my cochlear implants enabled me to thrive in situations such as role play and panel interviews. When scored alongside hearing individuals in these tasks, I scored very highly and was given a place on this highly competitive course.
The Aqua+ kit allows me to use my sound processors during swimming training, and through the Cochlear™ True Wireless Mini Microphone 2+ I can directly hear my coaches feedback whilst I am swimming! This accelerated my progress, and I was selected to compete in the European Deaf Championships."
What opportunities does winning the Scholarship offer you?
Katie: "Winning this Scholarship further demonstrates how Cochlear has given me the opportunity to truly experience life despite being hearing impaired. After silently struggling through school and trying to pretend that my hearing loss didn't put me at a disadvantage, winning the Scholarship makes me proud of how far I have come. I now feel confident to talk to people about my hearing rather than hide away, and I am inspired to help others like me get the hearing experience they deserve."
Libby: "I hope to inspire other deaf children and young people through sharing my story, showing how I have benefitted from cochlear implants and that there are no limitations to what a deaf child can achieve. Winning the Scholarship has also enabled me to purchase specialist equipment for medical school, such as a stethoscope which connects to my sound processors. I am very excited to start my journey in medicine and cannot imagine life without my cochlear implants."
What would you say to someone who is considering a hearing implant?
Katie: "I would encourage anyone considering a hearing implant to go for it! Having transitioned from a Baha to the Osia system this year, my experience so far has been overwhelmingly positive. The Osia implant has made me feel empowered and given me a level of confidence I never thought I'd reach.
Libby: "My cochlear implants have boosted my confidence and allow me to live a much more normal life amongst my hearing friends and family. I would wholeheartedly recommend a hearing implant to anyone who is eligible and is considering one. Although the decision to be fitted with a cochlear implant is a daunting one, for me they have only been a positive addition to my life."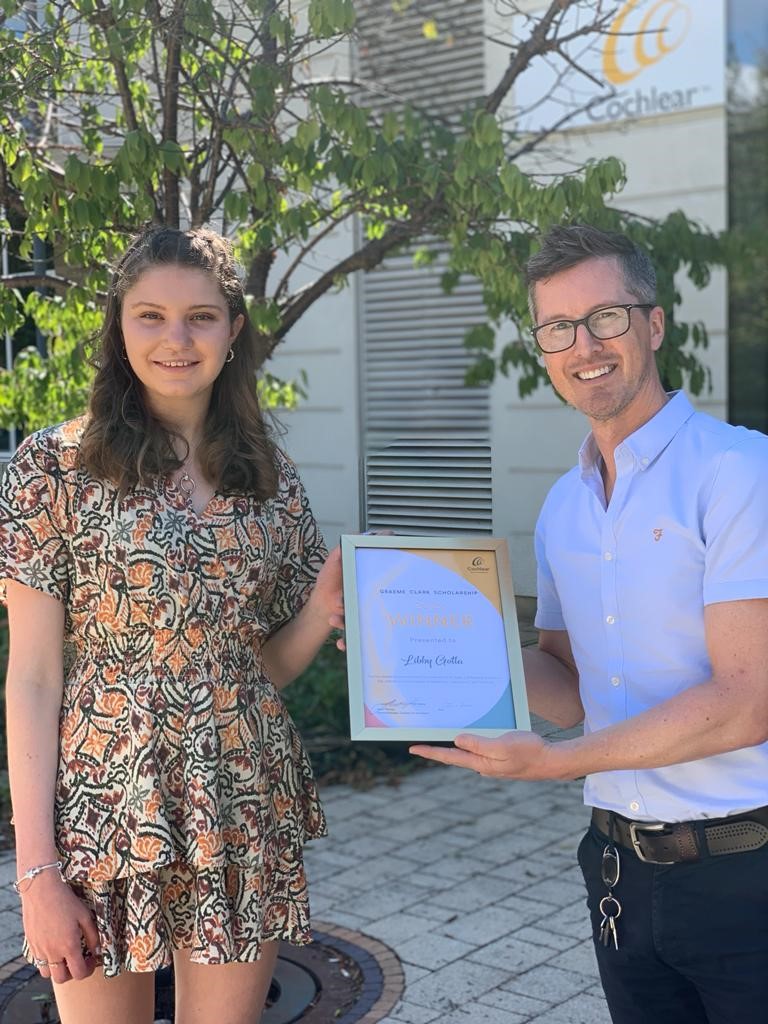 Could you be our next winner? We are now accepting submissions for the 2022/23 Scholarship programmes. Download an application form for the Graeme Clark Scholarship here and for the Anders Tjellström Scholarship here. Terms and conditions available here.