Even before the restrictions of the COVID-19 pandemic came into effect in Turkey, Sevil maintained a routine of at-home speech and language practice with her twin sons, Yaman and Yavuz. The four-year-old brothers received bilateral cochlear implants three years ago and, with the combination of in-clinic rehabilitation and daily practice, Sevil has been told that 'their level of speech and language is counted above their peers without hearing loss.'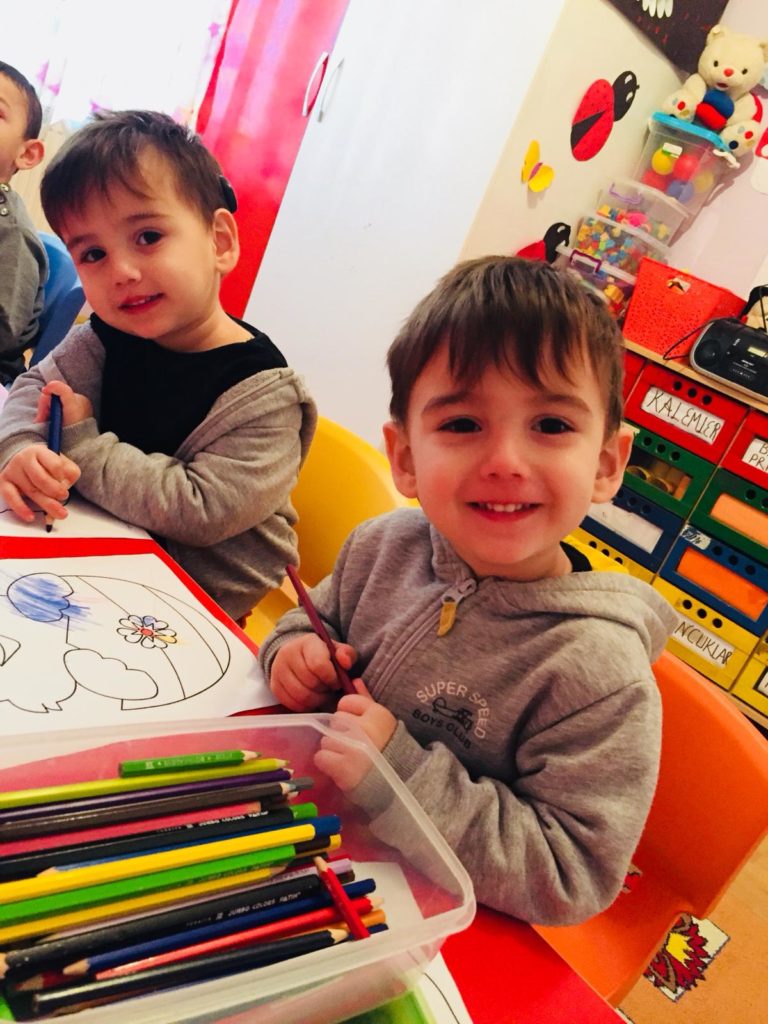 With rehabilitation centres locked down, both Sevil and the boys were keen for new activities to fill the longer days spent at home and keep up their skills.
'Playing the same games and the same activities became boring after a while for the children,' says Sevil. 'It was really great for us to practise from the content shared on Cochlear Turkey's social media accounts.'
Easily accessed using the hashtag #stayathomelearnathome on Facebook, this series of tips and tricks for rehabilitation include indoor games that Sevil says were 'even more fun than we expected.'
Why not give these activities a try with your pre-schooler?
Dancing game
Hold your child still in your arms and wait while another family member turns on music, ensuring it is close enough for the child to hear. Move and dance with the music, pointing to your ear and saying, 'I can hear the music.' Signal for the music to be paused, stop moving and say 'Oh! The music has stopped!' And go again, using different lengths of time to stop and start the music.
String beads
Sort a set of wooden or plastic beads by colour. Start by making simple patterns, lining up beads, such as red, blue and yellow, naming the colours as you go. Your child matches your line by putting their beads 'next to' and 'beside' your beads. Thread them onto a string with a knot on the end and talk about putting the string 'through' the hole in the bead. Let your child create a pattern for you to match and keep going, making different and longer patterns. Alternatively, you can use the same language as you make a 'necklace' from hoop-shaped breakfast cereals. Who doesn't love edible rehab?
Make a sound book
For this you need a scrapbook or binder to which pages can be added. Make the first page a house and cut out a door that can be opened and closed. Cut out photos of family and friends and keep them in an envelope on the facing page. Hide one picture behind the closed door and say 'Knock, knock, knock.' Open the door and say, 'Oh look! It's Daddy! Blow Daddy a kiss.' Replace the photo and repeat.
On other pages, draw pictures of different rooms or places and use the photos in different situations. For example, with a picture of the garden: 'Mama would like to play with the ball. Put Mama next to the ball.'
Shape sheets
Paint, glue or tape large shapes onto an old sheet or large beach towel. Play a direction game where you give three-step directions, such as 'touch the circle, sit on the square, and roll on the triangle' or 'jump on the square, tickle the triangle and walk around the circle.'
Weather reporter
Watch the weather report on TV. Cut an outline of a map from felt and put it on the wall. Using different colours of felt, make a sun, rain, snow, wind, clouds and lightning. Pretend to be a weather forecaster. Model and ask your child to give a report such as 'Today it's cloudy and rainy,' 'It is warm and sunny; don't forget your suncream' or 'It is rainy and you need your umbrella' etc.
Share how you are continuing your child's rehabilitation at home using the hashtag #stayathomelearnathome.