In 1984, having suddenly lost her hearing to Meningococcal Meningitis, Sue put her faith in 'groundbreaking' new hearing technology – the Cochlear™ Nucleus® 22 Implant. In the decades that followed, Sue received a second implant on her other ear and upgraded her sound processors many times.
'I remember my very bulky body worn sound processor that had three AA batteries!' says Sue. 'My experience of upgrades over this last 36 years is that it's a step up every time. Sometimes it's a really big step in sound quality and at other times it's been a big step in something else, like the first time they introduced a telecoil switch for the phone, … the wireless capability in Nucleus 6 and now direct streaming in Nucleus 7.'
Sue now has a Cochlear™ Nucleus® 7 Sound Processor for each ear. These are some of the outstanding differences from her previous devices that she says have made a real impact on her everyday living.
Easily listen to music and podcasts with audio directly streamed to your sound processor(s)
'So now I'm listening to podcasts … while I'm exercising on the rowing machine or going for a walk,' says Sue. 'Direct streaming has really just made it so much easier.'
How does it work? Rather than use an external device such as the Phone Clip, streaming on a compatible Apple or AndroidTM phone* sends the audio directly to your Nucleus 7 Sound Processor(s).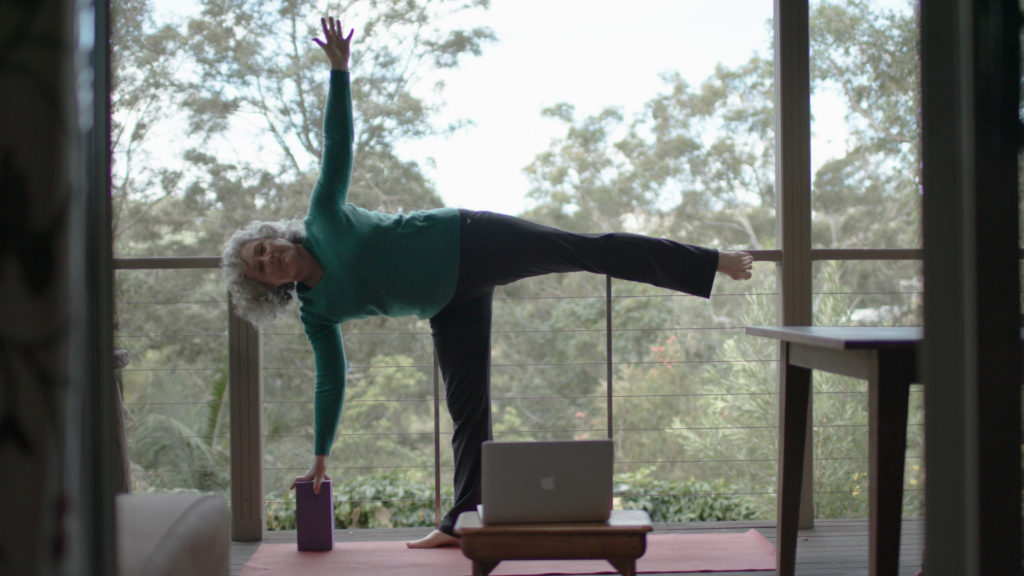 Clear phone calls and online meetings
In her work and with COVID-19 restrictions limiting access to her elderly parents in a nursing home, Sue has found herself making more phone calls and using online platforms such as FaceTime and Zoom. With audio streamed directly to her Nucleus 7 Sound Processors, Sue no longer needs to keep her Phone Clip handy and charged before she answers or makes a call.
'It's just great to be able to, you know, talk to clients [via] direct streaming to both ears, because I just get a much clearer sound,' says Sue. 'It's easier to understand people and takes some of the pressure off; it's not so stressful.'
Improved hearing in noise using the ForwardFocus** feature
'ForwardFocus really does improve the quality of sound to enable conversation in a social situation where I might have struggled previously,' says Sue. 'To have that extra noise reduction … you can relax a bit more and participate in that conversation without struggling quite so much.'
How does it work? Simply switch on ForwardFocus through the Nucleus Smart App*** to decrease noise coming from behind you and focus on the face-to-face conversation.1
As a Clinical Support Officer for the Sydney Cochlear Implant Centre† and President of the Cicada Australia support group, Sue uses her many years of experience as a cochlear implant recipient to help others to live well with their devices.
In adjusting after each upgrade to a new sound processor, Sue recommends wearing the device for 'as many hours per day as you can. Learn all the features so you can use them and try them in all different situations.'
As for being one of Cochlear's first recipients, Sue says 'I'm just really grateful to Cochlear that they do keep coming out with that new technology for the really old implant,' says Sue. 'I just wish more people would know about it!'
'So, if you're like me with the older Nucleus 22 implant and you're thinking about upgrading to N7, I would say go for it!'
Learn about how to upgrade your device.
_____
* The Nucleus 7 Sound Processor is compatible with Apple and Android devices. For compatibility information visit www.cochlear.com/compatibility
** ForwardFocus is enabled by your clinician and user-controlled via the Nucleus Smart App.
*** The Cochlear Nucleus Smart App is available on App Store and Google Play. For compatibility information visit www.cochlear.com/compatibility
† The Sydney Cochlear Implant Centre is a Royal Institute for Deaf and Blind Children (RIDBC) service.
Reference
1 Cochlear Limited. D1376556. Acceptance and Performance with the Nucleus 7 Cochlear Implant System with Adult Recipients. January 2020.
Apple and FaceTime, are trademarks of Apple Inc., registered in the U.S. and other countries. App Store is a service mark of Apple Inc., registered in the U.S. and other countries.
Android is a trademark of Google LLC. Google Play are trademarks of Google LLC.