The youngest of four children, Anna grew up in a sports-oriented family whose holidays included 5km kids' runs as well as triathlons, keeping her in shape for her other loves – basketball and soccer. In college, Anna joined her older brothers in her first marathon, and she has continued to compete in triathlons and an Ironman into her 20s.
'I have never let my hearing loss stop me from competing,' says Anna who was born with profound hearing loss and now has bilateral cochlear implants. 'Being active gets me out of the house and motivated to achieve bigger goals.'
Before upgrading to the CochlearTM Nucleus® 6 and 7 Sound Processors, Anna was unable to hear while swimming competitively or for pleasure. She had to explain her hearing loss to triathlon race officials and justify why she needed the assistance of family for the swim leg.
'My mum would hold my sound processors while I was in the water and then station herself some place at the end of the swim where I could find her and put my processors back on,' says Anna. Her mother's assistance was not always possible, and Anna recalls a time when someone moved her sound processors from the pickup point, causing 'instant panic' and a delay in the race as they tried to find them.
Now, with Aqua+ waterproof silicone sleeves for her Nucleus 6 and 7 Sound Processors, Anna no longer needs to remove her devices or to rely on lip reading and facial cues while swimming.
The Aqua+ has enabled Anna to hear the directions and instructions being given in the water at the start of the triathlon which, she says, has been 'super helpful.'
'Being able to hear the water is a unique sound that I hadn't heard for 24 years,' says Anna. 'I enjoy being able to hear people cheering, other swimmers encouraging me and having that feeling of safety. The Aqua+ allows me to hear boats, jet skis and people while I swim.'
Having bilateral cochlear implants has also made Anna feel safer while running and cycling as she is able to hear when a car is approaching from behind, when a car horn sounds a warning, or another person is nearby.
Anna is looking forward to upgrading her Nucleus 6 Sound Processor on the side of her 26-year-old implant. Having the Nucleus 7 Sound Processor on both sides will enable her to directly stream audio to both ears without the need for extra accessories.
'The Bluetooth technology really intrigued me – it has made listening to music so easy,' says Anna of her Nucleus 7 Sound Processor. 'There are no wires, cables or Phone Clips and this allows me to turn on my workout playlist, tuck my phone away and get into the workout.'
Being able to control her Nucleus 7 Sound Processor using the Nucleus Smart App has meant that Anna is able to 'adjust the settings, volume and programs from [her] phone without having to bring additional remotes.'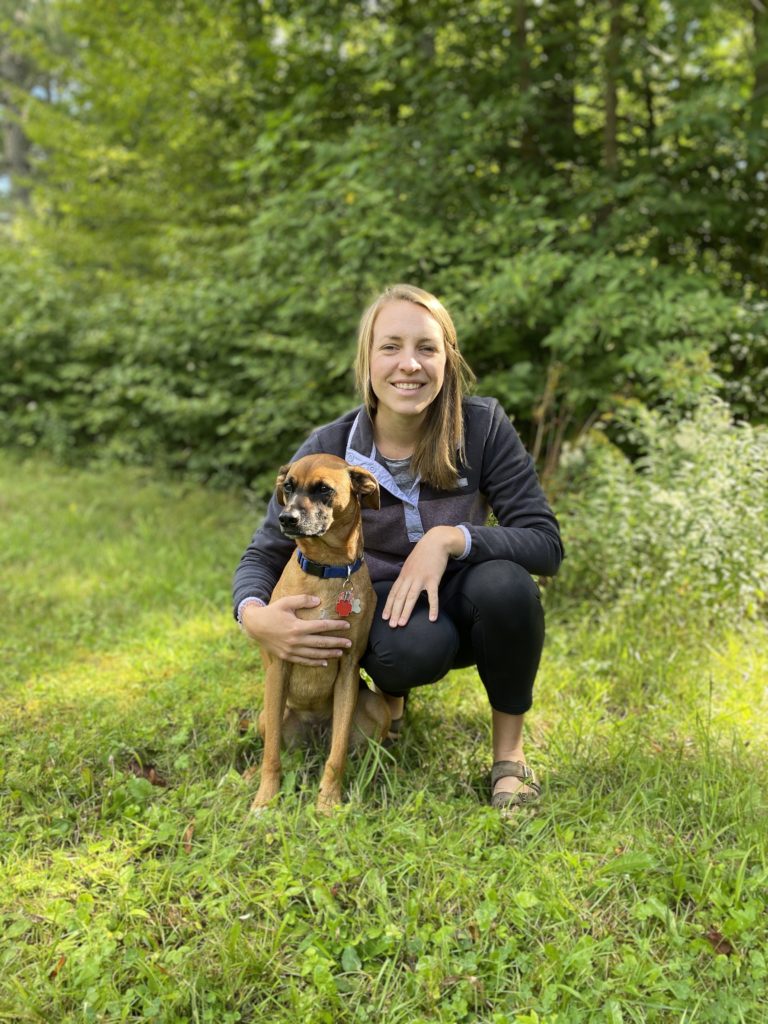 When she is not training for competition, Anna loves to hike and walk her dog, Remy to enjoy the sounds of nature away from the busy city.
'On the trails, there is a peacefulness of being outside surrounded by trees,' says Anna. 'My sound processors allow me to enjoy hearing the crunching of leaves in the fall, the small sounds of the wind blowing and the birds singing.'
As someone who has grown up with a cochlear implant, Anna is a firm believer that hearing loss should not hold anyone back from achieving their personal goals. She also has some advice to help parents and teachers support children with hearing loss achieve their dreams. Read more in Five ways to help your child achieve their best.
'My overall health and wellbeing are very important to me and allow me to be active and to continue to push myself,' says Anna. In the racing world, she is working on getting stronger and faster, while finishing a doctorate in special education.
'There are times that it is all overwhelming, but these times are tough momentarily and with patience and dedication, I am able to achieve my goals,' says Anna who likens such challenges to learning to hear with cochlear implants.
'It takes time, patience and dedication,' she says. 'At the end, it is rewarding to look back at the hard times and reflect on how I have grown, what I have learned and to find a new challenge.'
_____
The Cochlear Nucleus 6 and 7 Sound Processors with Aqua+ and Aqua+ Coil are dust and water resistant to level IP68 of the International Standard IEC60529 when you use a Cochlear Standard Rechargeable Battery Module or Cochlear Compact Rechargeable Battery Module. Refer to the relevant User Guide for more information.
The Cochlear Nucleus 7 Sound Processor is compatible with Apple and Android devices. The Cochlear Nucleus Smart App is available on App Store and Google Play. For compatibility information visit www.cochlear.com/compatibility
The Bluetooth® word mark and logos are registered trademarks owned by Bluetooth SIG, Inc. and any use of such marks by Cochlear Limited is under license.