The power of the Cochlear community came alive recently as more than 600 recipients in Europe joined together for "Cochlear Family Celebration" to mark World Hearing Day in March and our 40th anniversary.
Unlike previous Cochlear Family events, this year's celebration was entirely virtual and drew a record number of participants from the UK, Ireland, Germany and Italy, who logged on to learn about the latest Cochlear technology and connect with other recipients.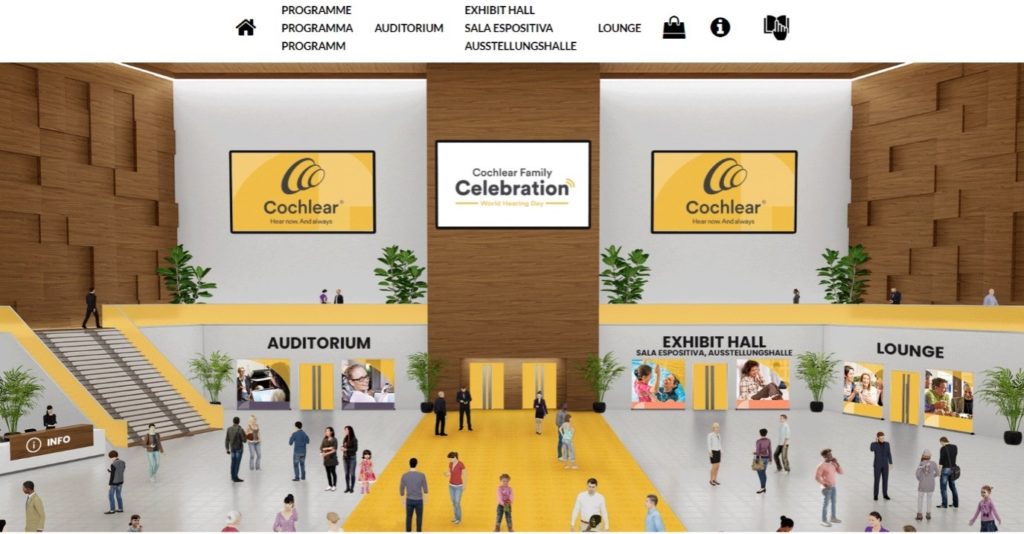 A highlight of the event was a virtual lounge which allowed for a more interactive experience. A chat room was set up exclusively for recipients to ask questions and share experiences while an online booth provided direct access to Cochlear staff to answer questions and direct people to more information.
"It is wonderful to see this type of event," one recipient posted in the live chat and echoed by others.

Live chat rooms
Several hundred recipients actively participated in the chat rooms, highlighting the value of being a part of Cochlear Family, a community where shared experiences and support from others is so readily available, especially at time of limited travel or group gatherings.
This kind of informal chat with people who understand what you're talking about is what makes the community feel like family.
Cochlear CEO and President Dig Howitt reiterated this in his opening address and warm welcome to event attendees: "Cochlear Family is your family."
While recipients posted about practical topics such as battery life and streaming, it was also an opportunity to discuss hot topics and emerging challenges such as how to communicate with people wearing face masks.
"Face masks definitely make it more difficult to understand," one recipient posted. "For school, I'd recommend handing the Mini Mic to the teacher so that you have a direct connection. And if the environment is quiet enough, it also helps me to simply set the sound processors to a louder setting."
With lockdown preventing many recipients from attending clinics, a session on rehab was offered to share tips and help recipients actively engage in listening or conversation practice. Topics ranged from activities in daily life to using the Cochlear smart app technology to monitor listening environments and track progress.
Recipients were also keen to share their experiences with the latest Cochlear technology and learn from others about how to get the most out of their new device.
"I have just received an upgrade to my Nucleus® 7 just this week and it has been awesome," one recipient posted. "One of my favourite things about the Nucleus 7 is the wireless streaming. I absolutely love it! Is anyone using the streaming?"
Innovation updates
Innovation and the latest technology were also key themes of the four sessions presented by Cochlear staff in the virtual auditorium including a deep dive into the new Cochlear™ Nucleus® Kanso® 2 Sound Processor.
"At Cochlear, we've worked hard to ensure that the Kanso® 2 Sound Processor delivers advanced hearing performance, industry leading connectivity and a built-in rechargeable battery without increasing the size," said Nicola Robertson, an audiologist and product manager from the UK. "It is the smallest and lightest rechargeable off-the-ear sound processor."
Richard Brook, Cochlear President EMEA & Latin America, took the opportunity to highlight the fact Cochlear's commitment to innovation continued to benefit people with hearing loss: "The fact that Cochlear is celebrating 40 years in 2021 is testament to a remarkable commitment to innovation. By continuing to improve and adapt to new technologies we now have early implant recipients who have access to the latest sound processor technology. The next 40 years will be an amazing journey too."
We hope those of you who attended the day found it informative, useful and as fun as we did!