If you're a born communicator like Jeff, a Cochlear Volunteer in the UK, losing your hearing can severely impact your life.
"I became the quiet man," says Jeff. "I couldn't take part in social interactions in noisy places like restaurants, and it also stopped me from carrying on my second chosen career.
"When I retired from the police, I trained as a teacher, but being deaf prevented me from doing that. After I had the Baha, and especially with use of the accessories like the Mini Mic (Cochlear™ Wireless Mini Microphone), I was able to go back to teaching and I worked for 10 years in special education and secondary schools."
Now retired from teaching, Jeff can continue communicating with others, thanks to his Cochlear Baha® 5 Power Sound Processor on his left side, and an acoustic hearing aid in his right ear.
"My main hobby is amateur radio – I'm a radio ham – and hearing is an essential part of being able to communicate around the globe," says Jeff.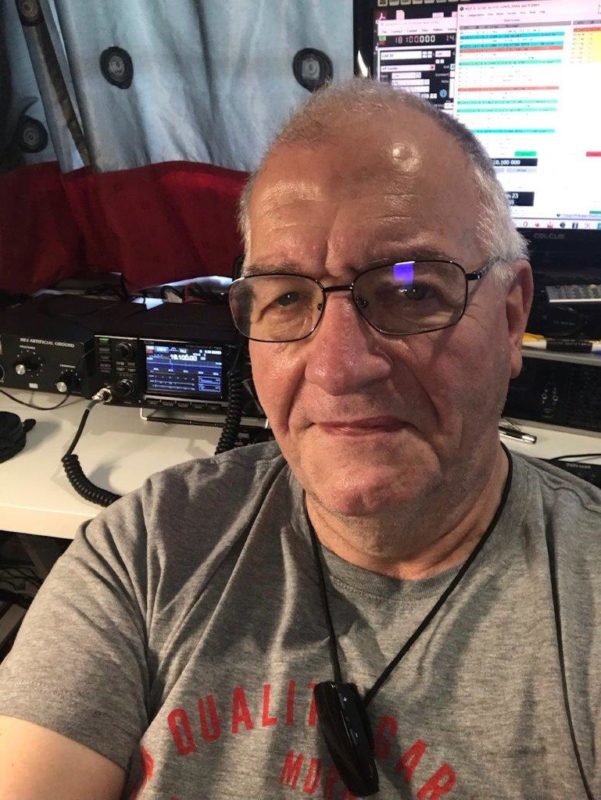 "Much of my radio is digital, text-based, but when I am using voice modes I often use the Mini Mic to hear the other stations. Now, with the Mini Mic plugged into my radio and streaming directly to my Baha, I'm able to hear voices clearly over the radio, speaking to – and, more importantly, hearing – people in other parts of the world, learning about their lives and their cultures."
View Jeff's interview:
Jeff is also passionate about helping others: "Today, I help run a Facebook support group for Baha and other bone anchored technology users."
"With close on 3,000 current members, the other admins and I are kept busy giving technical advice and telling potential recipients our hearing stories about how bone-anchored technology has changed our lives."
Although the group is based in the UK, it has members in the US, most of Europe, Australia and several other countries around the world.
"Social media – and Facebook in particular – are either a curse or very useful tools," says Jeff.
"Baha Users UK (the Facebook group Jeff helps to facilitate) exists to bridge the gap between the uninformed – and often dangerous – sites found on the Internet, the manufacturers and the hearing health professionals," says Jeff.
"I use my technical knowledge and past training from Cochlear to advise on tech issues like pairing accessories. One of our admins is a retired nurse – she gives some advice on wound care – but our main aim is always to refer back to the health professionals."
Jeff says the most common questions asked by members of the Facebook support group relate to pairing accessories, technical questions about using Baha Sound Processor programmes, the Cochlear Baha Smart App and wound care. Here are his key tips.
Jeff's top tips
Don't rush, it takes time for the brain to adjust to the new stimulus.
For those who have an abutment, do not be too vigorous with the abutment cleaning. Find a gentle routine that suits you and stick with it. I use a mild herbal shampoo in the shower every morning, rinse thoroughly and pat dry with a soft towel.
Read the instructions about pairing accessories carefully and follow them in the correct order. Taking shortcuts will result in failure.
While Jeff himself prefers to use the program button and volume rocker on his Baha 5 Power rather than the Baha Smart App, he receives many queries about the app from users in the group.
"Don't be tempted to turn the volume up too high," is his advice. "Doing so often distorts the sound and can lead to feedback screeching. The Baha 5 Power Sound Processor has a volume rocker on the side but others, such as the Baha 6 Max Sound Processor, do not. It is possible to change volume levels in iPhone settings, but it is much easier using the Smart App."
And finally, Jeff's biggest piece of advice:
"Smile. You are using one of the best hearing systems in the world."
The Cochlear Baha 5 Sound Processor is compatible with Apple devices. The Cochlear Baha 6 Max Sound Processor is compatible with Apple and Android devices. The Cochlear Baha Smart App is available on App Store and Google Play. For compatibility information, visit www.cochlear.com/compatibility.
___
Apple, the Apple logo, FaceTime, Made for iPad logo, Made for iPhone logo, Made for iPod logo, iPhone, iPad Pro, iPad Air, iPad mini, iPad and iPod touch are trademarks of Apple Inc., registered in the U.S. and other countries. App Store is a service mark of Apple Inc., registered in the U.S. and other countries.
Android is a trademark of Google LLC. The Android robot is reproduced or modified from work created and shared by Google and used according to terms described in the Creative Commons 3.0 Attribution License. Google Play and the Google Play logo are trademarks of Google LLC.