Cochlear Volunteers work wonders in reaching out to so many people along their customer journey, calming fears and bringing hope. They share their stories, attend awareness raising events and connect directly to candidates in search of support.
"For many candidates it is helpful to talk to somebody who can share insights from a recipient's rather than a medical perspective," says Tina, Cochlear™ Nucleus® System recipient, Cochlear Volunteer in Sweden, and mother of three boys (and four cats).
Tina's life before and after CI
Tina has had a Cochlear implant since 2016 and received her second in 2021. Today she benefits from two Cochlear Nucleus Kanso® Sound Processors.
"My CIs are crucial for my ability to hear, to be able to participate in communication and to be a professional," says Tina, whose bilateral CIs helped open up a new world, privately and professionally.
"My hearing aids had not given me that freedom, not even close. With my CIs, I went from being socially isolated to being able to participate in basically the same way as I did when I was still hearing. It is so amazing and something I almost did not dare to hope for when my hearing was really poor. I got my life back!"
Sharing knowledge and practical experience
Tina decided to be a Cochlear Volunteer to share her user experience and hearing journey with others who are interested in cochlear implants.
"For me, it was very important to seek advice from other people who had cochlear implants before I took my own big decision," she says.
"Thus, one of my motivations for being a Volunteer is that I know that it is difficult to get in contact with someone who has been on a similar journey. Sharing my personal experience is one of the main reasons why my work as a Volunteer is so important.
"When confronted with the diagnosis of severe hearing loss, candidates need reassurance and a great deal of information to make the important decision of getting a cochlear implant. Speaking with someone who has been in a similar situation and has become a CI user is fundamental for their decision whether to get surgery or not.
"Providing candidates an opportunity to ask questions is key because this gives them a feeling of being taken seriously and addresses an important need. Being in possession of all the crucial elements is the basis on which the candidate then makes the decision to go ahead with the surgery."
Being in the candidate's shoes
Tina understands the importance of getting both a medical perspective and a recipient's perspective. "My own experience enables me to anticipate candidates' questions and answer them from a very practical point of view."
"In such an environment, you feel safe to ask 'strange' questions. Not medical, but rather personal questions – female candidates might ask what kind of hairstyle would best accommodate a CI, or what lifestyle you are living, how to ride a bike or ski with a helmet etc."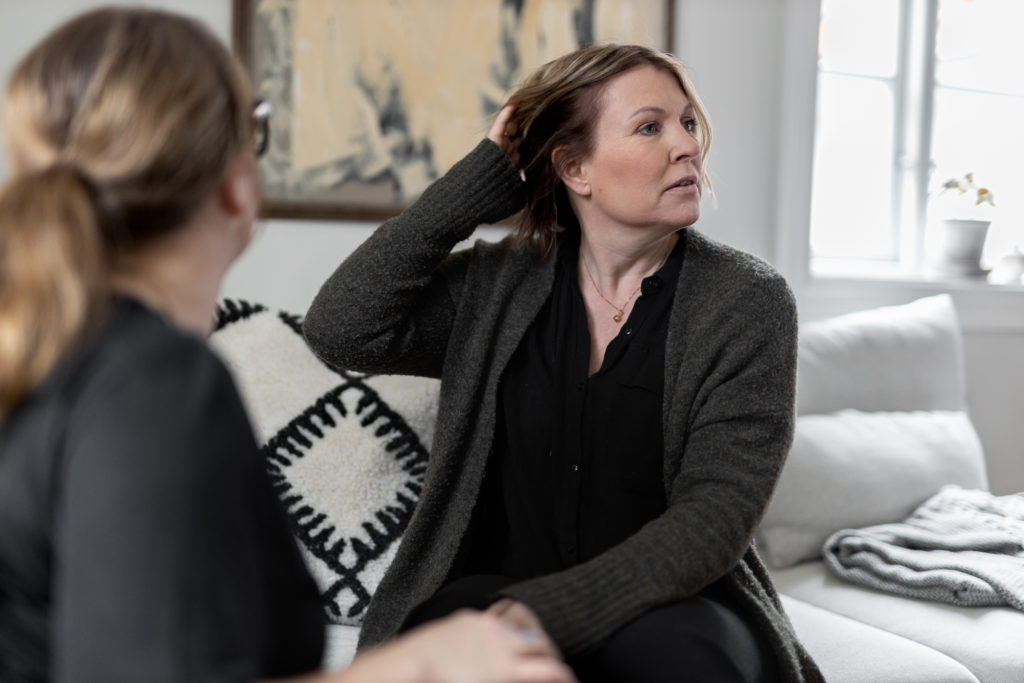 We need to spread the message
Tina wants people to know that good hearing health is within reach.
"If you lose your hearing, you also lose your ability to communicate and live your relationships to the fullest. A lot of people wait too long before they go through with the operation.
"Looking back, I wonder sometimes: what if I had had CIs when my children were still toddlers? The choice to get a CI was difficult for me, but with the knowledge and experience I have today, I would have chosen a CI much earlier."
What can you do?
You don't have to be a Cochlear Volunteer to help others learn about the importance of hearing health and what life is like with a cochlear implant or Baha.
As Tina says, "To have access to other people – people who have a cochlear implant and who understand the hearing journey – that's incredibly valuable. That makes it easier to come to a decision."
Take time to talk with family, friends and other people you meet about your experience. If someone is struggling with hearing loss, encourage them to get help. Just knowing there may be a solution can be enough for them to take the first step.