Hearing loss can be isolating at the best of times but, with a pandemic still keeping some of us apart, many people with hearing loss are finding the challenges tougher than ever.
In fact, according to a survey1 by the Hearing Loss Association of America (HLAA), more than half of people with hearing loss have felt less connected to friends and family during the pandemic as a result of their hearing loss. The survey was conducted in partnership with Cochlear.
Our well-being is also affected with almost half of those surveyed saying their hearing loss has influenced other aspects of their mental health since the pandemic. Many also report feeling anxious and isolated.
Technology can help. The survey shows that 68% of those with hearing loss have increased their use of technology during the pandemic to communicate with others. However, 55% also say their hearing loss creates challenges while using technology to communicate.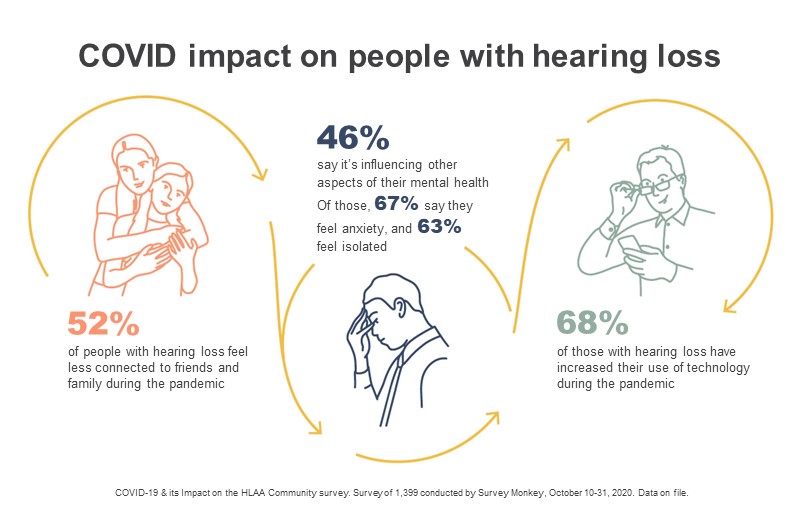 So, how are other recipients using their devices and technology to overcome isolation and stay connected during the pandemic?
Sheiladawn, a cochlear implant recipient who lives in the US, found ways to connect digitally with her family during this time.
"We have talked on the phone, texted and used FaceTime," says Sheiladawn, who uses a Cochlear™ Nucleus® Kanso® Sound Processor and Cochlear™ Wireless Phone Clip. "Everything comes right to my processor, and it blocks out everything that's in the background."
Margaret, who lives in Scotland, has used Skype and FaceTime to stay close with her grandchildren, thanks to the streaming capabilities of her Cochlear Nucleus 7 Sound Processor.
"I love that the speech goes straight to my processor, it makes the conversations clearer and I don't even have to put the phone to my ear – just lay it on my lap," she says.
For Lynn in the US, who is bilaterally implanted and uses Cochlear Nucleus 6 and 7 sound processors, social media is useful as it removes the reliance on being able to hear.
"By getting my family and friends to write to me and share with me I can keep up with what's going on in their lives and not feel the stress of having to constantly say, 'I didn't hear that, could you repeat that?'."
While communicating with others is critical to our well-being, it's also important to stay aware of your own needs and how to unwind and relax at home. Understanding how to get the most out of your Cochlear technology while you're at home can help.
Julian, a cochlear implant recipient and musician who lives in Australia with his wife and two children, immerses himself in his music by playing his piano keyboard.
He does this without disturbing anyone around him using his Cochlear True Wireless™ devices, which allow him to stream music from his electronic keyboard to his Cochlear Nucleus 6 Sound Processors.
"The wireless accessories have been hugely successful for me. I have a Mini Mic and I hook it up to my instruments and practise without disturbing my family. It just goes straight to my sound processors."
How to stay connected with streaming
How you stream depends on which Cochlear sound processor you use.
If you use a Cochlear Nucleus 7 or Kanso 2 Sound Processor, you can stream sound directly to your sound processor from a compatible Apple or Android™ device using the Nucleus Smart App.
If you have a Kanso or a Cochlear Nucleus 6 Sound Processor, you can stream sound using the Cochlear True Wireless Phone Clip.
Try streaming today to get the most out of your Cochlear technology and connect with friends and loved ones.
_____
References
1. COVID-19 & its Impact on the HLAA Community survey. Survey of 1,399 conducted by Survey Monkey, October 10-31, 2020. Data on file.
The Cochlear Nucleus Smart App is available on App Store and Google Play. For compatibility information visit www.cochlear.com/compatibility
Apple, the Apple logo, Apple Watch, FaceTime, Made for iPad logo, Made for iPhone logo, Made for iPod logo, iPhone, iPad Pro, iPad Air, iPad mini, iPad and iPod touch are trademarks of Apple Inc., registered in the U.S. and other countries. App Store is a service mark of Apple Inc., registered in the U.S. and other countries.
Android is a trademark of Google LLC. Google Play and the Google Play logo are trademarks of Google LLC.