Finding a supportive community isn't always easy, especially when you're a teenager with hearing loss. That's why 18-year-old Gina Marie decided to create her own support network and feel proud of her Cochlear™ hearing solution.
Growing up in Germany, Gina Marie found school socially challenging, deciding to hide her hearing loss and Cochlear sound processor from others.
'I always felt lonely back then,' she says. 'I was also bullied because I always spoke strangely … they didn't know about my deafness at the time.'
Born deaf, Gina Marie got her first cochlear implant as a toddler. Although she'd wanted a second cochlear implant since age 11, Gina Marie was too nervous about undergoing more surgery. Now a young adult, Gina Marie has found new confidence through social media. Her story resonated with other teenagers living with hearing loss and she gained 12,600 Instagram followers in just a few years. Making new online friends who shared their own experiences with hearing loss and life with a cochlear implant convinced Gina Marie to reconsider her second surgery.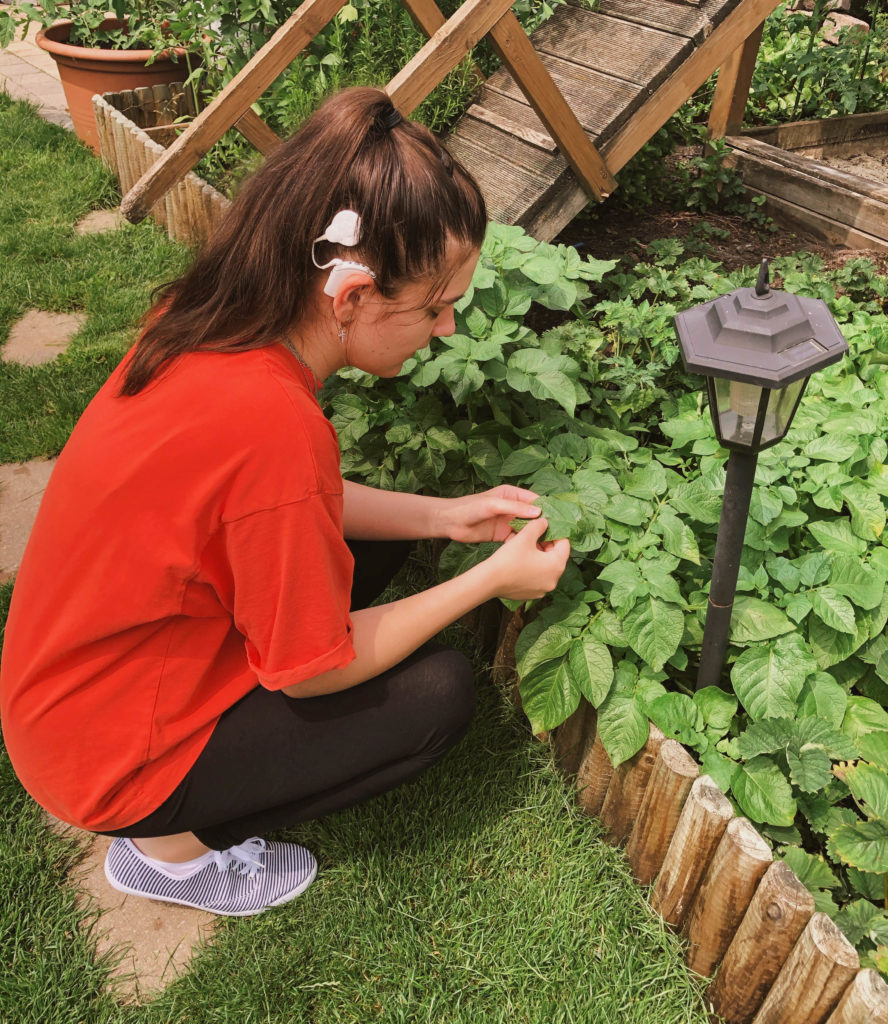 'A year or two ago, everyone said that two [cochlear implants] were way better than just one,' says Gina Marie.
With the support of her online community, Gina Marie overcame her nerves and now has two CochlearTM Nucleus® 7 Sound Processors. 'Now, I don't need to be afraid anymore. Fear prevents us from doing a lot, but it has to be overcome,' she says. 'I am glad that it's now behind me.'
Gina Marie finds that having bilateral cochlear implants helps her hear more easily and has improved her safety. 'I can hear from both directions now,' she explains. 'With one implant, you have to concentrate hard on what the person said, and now it's a little more relaxed.'
This has helped Gina Marie in communicating with her family, at school and getting her driving licence, she adds.
From school to the pool, Gina Marie relishes the ability to stream sound directly to her two Nucleus 7 Sound Processors. At school, the Cochlear True WirelessTM Mini Microphone 2+ helps Gina Marie hear the teacher clearly in class and participate in group discussions.
As someone who loves swimming, Gina Marie enjoys being able to hear underwater using her Cochlear Nucleus Aqua+ accessory. 'I can dive and swim with Aqua+. Before, I had to use sign language,' she says. 'I had never heard underwater in 14 years. The first time I heard underwater, I couldn't stop diving.'
At home, she lives the typical life of a teenager. 'We communicate normally without sign language,' she says before cheekily adding, 'My siblings are very noisy and luckily I can turn off my sound processors if they annoy me!'
With her many accomplishments in recent years, it's easy to see Gina Marie's bubbling positivity as she supports other young people with hearing loss. Her best advice to other struggling teens? 'Don't let it get you down! You are perfect as you are and other people who do not see that, do not deserve to spend time with you,' she asserts. 'Don't hide [your hearing loss]. Stand by it. It's easier than you think!'
If you are active on social media, remember to tag Cochlear to help us find, like 👍 and share your posts #HearNowAndAlways #CochlearImplant #CochlearFamily
_____
References
The Nucleus 7 Sound Processor with Aqua+ and Aqua+ Coil is water resistant to level IP68 of the International Standard IEC60529 when you use a Cochlear Standard Rechargeable Battery Module or Cochlear Compact Rechargeable Battery Module. Refer to the relevant User Guide for more information.
The Cochlear Nucleus 7 Sound Processor is compatible with Apple and Android devices. The Cochlear Nucleus Smart App is available on App Store and Google Play. For compatibility information visit www.cochlear.com/compatibility
Apple, the Apple logo, iPhone, iPad and iPod are trademarks of Apple Inc., registered in the U.S. and other countries. App Store is a service mark of Apple Inc.
Android is a trademark of Google LLC. Google Play is a trademark of Google LLC.