Cath, Marketing Communications Manager at Cochlear, is training for the London Marathon on October 3rd and she's fundraising for Hearing Dogs for Deaf People.
The charity trains hearing dogs to alert deaf people to important and lifesaving sounds they would otherwise miss – sounds that many people take for granted like the doorbell, alarm clock and even danger signals like the fire alarm. Being aware of these – thanks to a hearing dog – makes a real difference to deaf people's lives and can even save them. They have matched thousands of adorable dogs with deaf people since their humble beginnings in 1982. Currently, there are almost 1,000 working hearing dog partnerships across the UK.
Dogs are close to Cath's heart. She trains with her 3-year-old fox red lab and running partner/personal trainer, Indy. So fundraising for Hearing Dogs for Deaf People seemed a natural fit to her, being an Audiologist herself and having worked at Cochlear for the past three years.
And the money raised by Cath and many others, where does it go and who does it help? Every penny goes towards helping more deaf people to reduce loneliness and reconnect with life.
Help to create a partnership like Jay and Rufus
Meet recently implanted Jay (and Rufus!) who has been benefitting from a Hearing Dog for eight years. Hear how Rufus and Jay have negotiated stressful lockdowns together during the Covid-19 pandemic and Jay's journey to getting a Cochlear implant earlier this year.
"I wanted to share a bit about my life, eight and a half years of which I have shared with my constant shadow of companionship and hearing support, my Rufus; my second pair of ears on four legs!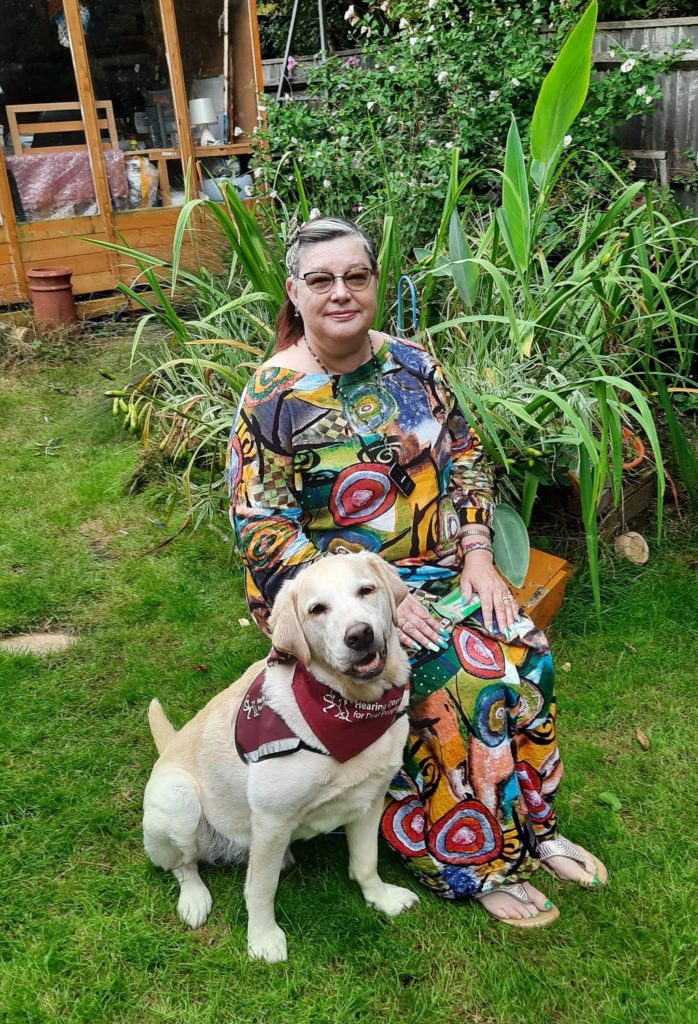 At home, Rufus alerts me to so many different sounds, he uses his nose to nudge me on the leg. He'll let me know when the front doorbell goes and will alert to sounds such as cooker timers, my alarm clock and any warning alarms.
Rufus wears his working coat when we're out and about, and at my place of work this lessens the stress of customers not realising I am deaf or why I may have missed something said to me. Rufus has been an honorary essential Key Worker alongside me at Morrisons Supermarket based just outside Southampton. I am proud of my role as an essential Key Worker during the pandemic in helping to feed the local community and supplying food banks.
The pandemic has however cause me much frustration; fatiguing hard work and no longer being able to lip-read because of masks. This wasn't helped by the fact I was no longer wearing my hearing aids due to repeat ear infections. I would try and communicate as best I could at work, I even purchased a small white board to communicate with. But my mental health suffered greatly. I could no longer cope and I had to take a break for a number of weeks away from my usually much loved and enjoyable job.
After a period of rest, I was only back at work for a short while when I received a totally unexpected email from my audiologist with a date for my cochlear implant operation. Oh my gosh! I was so excited, I had to pinch myself and then read the email twice more!
In the weeks following switch-on, I progressed well by being persistent in keeping my Cochlear™ Nucleus® 7 Sound Processor on as much as possible. The robotic mickey mouse voice started to disappear, and I began to enjoy strange but wonderful sounds. I loved hearing the new sounds of Rufus's tippity tap claws as he walks along, how furiously loud the rain can be, and what a noisy eater my cat Jack is! Rufus makes a lot of noises I never knew he made. So many talkative sighs, grumping sounds, and high-pitched whines; he is so vocal.
I am still working on the best way to wear my sound processor and my face mask at work. I love the safety line which I attach to the battery and the other end is clipped onto the collar or edge of clothing around my neck. No more accidently throwing my sound processor whilst trying to take my mask off to have a drink whilst working on the checkout.
And our journey through life together continues.
With the pandemic showing hopeful signs of settling down, I am looking forward to a new positive and enjoyable challenge. After being so rudely interrupted by Covid-19 I am looking forward to putting on, for the first time, my Hearing Dogs for Deaf People volunteer's jacket and lanyard, after it has been hanging in the wardrobe unused for too long.
My goal is to learn the skills of presenting talks on behalf of Hearing Dogs for Deaf People and joining my fellow volunteers in raising much needed funds in order to give others the special bond, companionship and most importantly of all the hearing support a Hearing Dog for Deaf People can give."
You can find out more about Hearing Dogs for Deaf People at www.hearingdogs.org.uk and if you wanted to donate to Cath's challenge and help make running the marathon a little less ruff(!) her Just Giving page is here.