We have a wonderful team of Volunteers who are passionate about sharing their experiences with a hearing implant and helping others on their journey. Here you can read about how two of our Volunteers have been helping both candidates and recipients during the worrying and isolating National lockdowns.
Peter L (Cochlear™ Nucleus Kanso® recipient)
"Before my implantation I relied on the internet to help me in my research (knowing nothing about cochlear implants). The existence of Facebook support groups was very useful in putting me in touch with people who had been through the whole procedure – in the days when we were able to meet face-to-face, that is! But even now with official restrictions in place, the "cloud" world lets us do many of the things that still need to be done.
A good example for me concerned a gentleman candidate who was worried about how his appearance might change with a CI processor being visible to all. I think he had the impression that it would be the size (and weight) of a house brick… but with the use of modern technology I was able to use my mobile phone to take a picture of my off-the-ear processor and send it to him – his reaction was very positive!
As a Volunteer group we have also used the internet's communication tools to hold coffee mornings with Vicky, our Volunteer Manager and it's been wonderful to meet other Volunteers in my 'regional hub' and to become active in online activities such as webinars, mentoring candidates and assisting clinics with online information sessions and recipient support. I am really looking forward to assisting my local hospital with upgrade to recipient support, where I will facilitate online sessions in educating those patients in how to use and pair those devices.
I have thoroughly enjoyed volunteering during the lockdowns, I didn't think there would be so much to do with all face to face meetings postponed!"
Sarah S (Cochlear™ Nucleus® 7 recipient)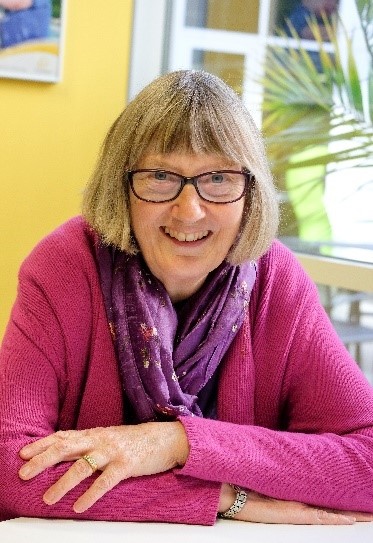 "During lockdown I have been in touch with 4 candidates and recipients, three of which have been struggling. One had had her implant activated just before the first lockdown in 2020 but had no exercises or follow-up appointments. As you can imagine she was very tired and stressed. She was however highly motivated and proactive. It was a privilege to be able to support her ideas and provide others she could use to get on the road to good hearing.
A candidate who wanted help had been expecting to be implanted in the Autumn but still did not yet have a confirmed date. As she lived alone and hadn't spoken to anyone for 12 weeks of the first lockdown, she needed a lot of support. I continued to assist her with my 'How to be deaf' thoughts. For example, how to focus on speech in noise, using BT text options on a smartphone or computer and other general ideas. If one has been getting deafer for years, there are useful tips one picks up over time and these can be passed on to others.
The coffee mornings have been an excellent way for clinics to keep Volunteers up to date with how waiting lists are progressing and for volunteers to chat to each other about ways to support patients and keep them motivated. There are so many exciting opportunities for us to offer support and professional education, using an online format until face to face can be resumed."
We are so proud and thankful for all our Volunteers who strive to support others and pass on their wisdom and experience.
If you would like more information about our Volunteer programme, either to register your interest to become one or to speak to one yourself, please email us at ukmarketing@cochlear.com