For busy parents juggling work and family life, supporting the development of a child with a cochlear implant can be a challenge.
But for UK parents Aman and Sukhvans Sandhu, adopting the latest technology and understanding how to get the most out of it is playing a significant role in helping them to support their 16-month old son Arjan who has bilateral cochlear implants.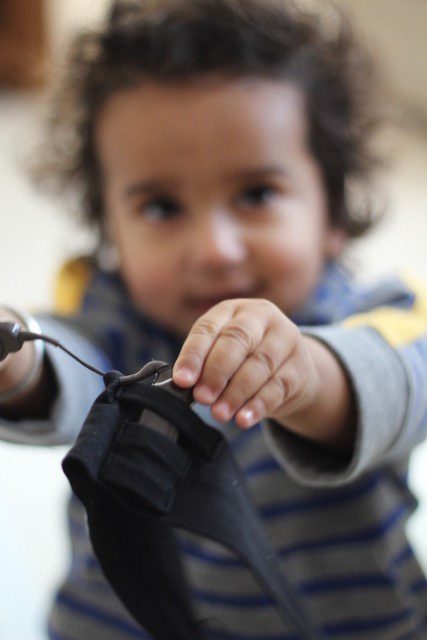 Using the Cochlear™ Nucleus® Smart App, Aman and Sukhvans can access Arjan's personalised hearing information from his Nucleus 7 Sound Processors and monitor how much hearing practise Arjan has had during the day.
'We use the Smart App daily. Our favourite part is the app's "Hearing Tracker", as it gives us an indicator of how much varying sound Arjan is experiencing and how much time in speech he has,' says his mother, Aman.
'Because we both work the Smart App is invaluable. It keeps a record, no matter what Arjan is doing or who he is with. When he's been at a nursery, for example, we can check the Smart App to see how much time in speech he has had. And we can adapt the evening or make plans for the next day if we need to give him more time in a particular listening environment.'
'We make sure he has plenty of time on air every day and at least three to four hours in speech. So, we have a routine at home to make sure that happens,' she says.
Maximising time in speech
Clare Sheridan, Consumer Education Manager for Cochlear in the UK says exposure to speech is very important to develop listening skills:
'This is essential for children developing their speech and language skills'.
Clare says the Smart App can help recipients increase their 'time in speech' by allowing parents to see a measure of their child's daily language environment; parents and care givers are the most powerful influence in their child's life through their conversations and interactions that build the child's brain.
While goals vary depending on age, family and work situations, they can also help families and recipients to consider barriers to exposure to speech and, importantly, when they are doing things that help.
Aman finds the Smart App is a great way to keep track and monitor Arjan's hearing because 'so much of it happens in the background, while you're getting on with family life'.
'You can check it when you have time to stop and concentrate. Also, the data is there ready for the audiologist to review and make adjustments. Making notes and keeping logs is automatic, so you don't have to worry about it.'
Other features of the Smart App include:
locating the device if it's misplaced or has been removed
checking battery life
changing the volume or other settings
alerting you if the coils are off.
Aman likes the feature that alerts her when Arjan's processors have come off: 'I don't feel I need to be watching him every minute of the day. I can do some chores while he's playing, and my phone will alert me if I need to go and put his coil back on'.
As Arjan's experience of music develops, the Smart App will make it easy for his parents to switch his sound processors to a music setting without disturbing his play.
Arjan already enjoys music, including the beat of the tabla – Indian classical drums – which his father plays.
'Every day is a small step on Arjan's hearing journey. It's incredibly rewarding as a parent to watch him progress day by day and, on the days when it's a struggle, looking at the app helps to remind us that he's making good progress.'
Practical tips from the Sandhu family
Invest in a headband to keep the processors in place.
Involve the rest of the family and teachers at your child's nursery – especially for working parents – to help your child get the best results.
Take the time to explain the sound processors to the nursery teachers. Aman took Arjan's headband off and showed them each part and what it did.
And even more tips…
Adjust the app settings so that phone calls do not stream to the processors. You can switch it so that media/calls never stream to the processors.
As soon as your child is awake, put the sound processors on. You'll be surprised how vocal they become and more interactive.
Keep the dry box and charger by your child's bedside so it's the last thing that's put away and the first thing they can pick up in the morning.
Charge the batteries daily and alternate them to prevent one set from getting used so much.
Encourage family members who live with you or who will be in regular contact to put the coils on if they fall off as it will increase your child's exposure time to sound and of course to have conversations with your child as they interact.
The location function on the app is useful in case you're unable to find the processors, although we have not lost them yet.
If you'd like more information on the Nucleus Smart App, head here.